Service Center


Getting the right care for your Ford is everything. That's why when your vehicle needs to be serviced, whether for routine maintenance or a specific system repair, you can count on the team of experts here at our Ford service center. See how our Fred Beans Ford of Exton service team can help ensure your Ford provides years of great performance around Exton, Coatesville, and Downingtown, PA!
What Kind of Services Do We Do?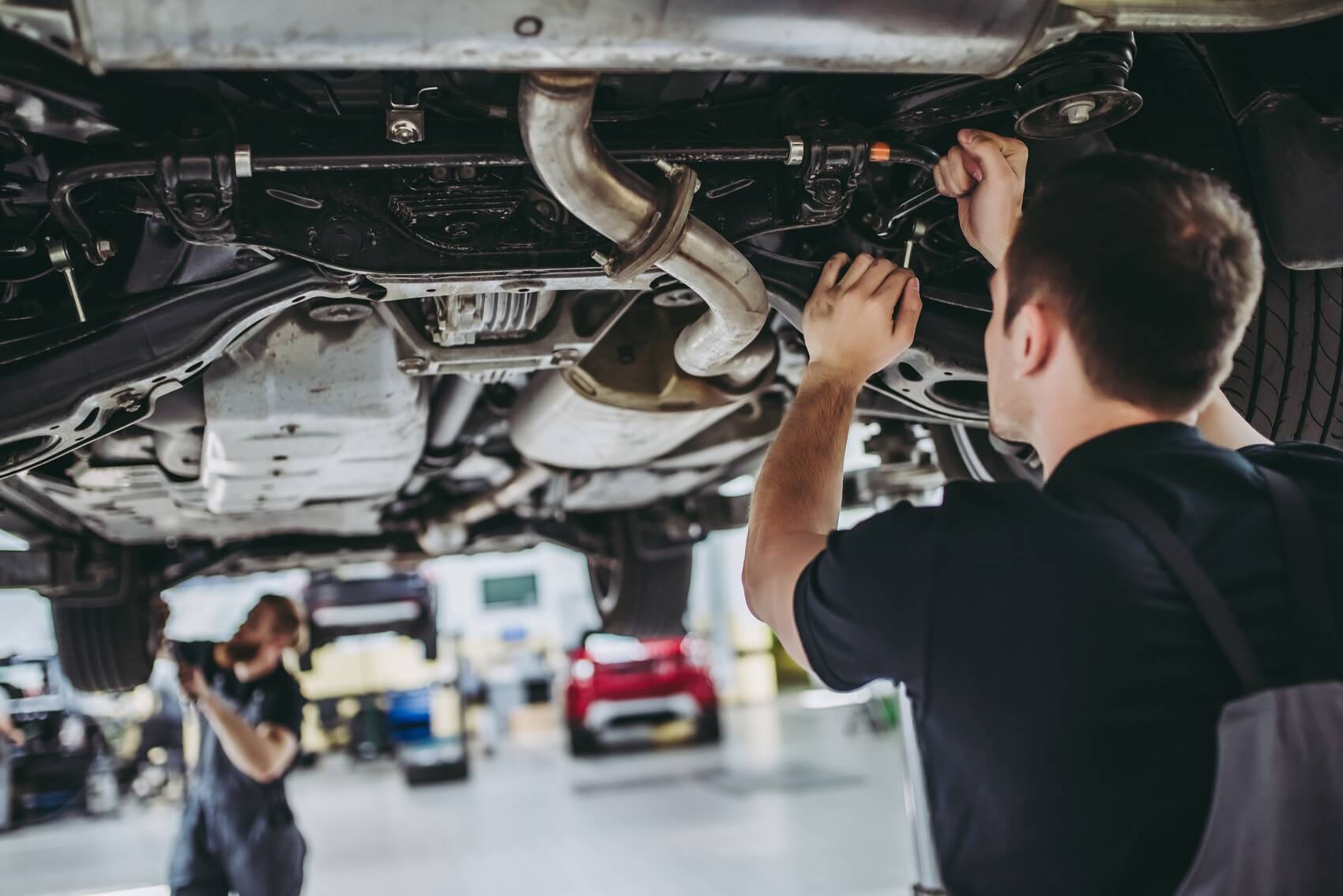 Our menu of services basically encompasses any type of routine maintenance or repairs that your Ford will or may need to have done. That includes oil changes and tire rotations, which can keep your car performing efficiently and safely.
We'll even be able to check all fluid levels to make sure they're where they need to be, and inspect other systems to see if it's time to have your brake pads, cabin air filter, or any other parts replaced. By having the expert eyes of our technicians thoroughly examine your car, they can catch a potential issue before it actually affects the performance or safety of your vehicle.
Also, if you happen to run into any issues, whether you notice a leak in your driveway, or a dashboard warning light has appeared during your commute to work, they can quickly figure out what the problem is and get it fixed right away for you.
The Parts and Professionals Needed to Get the Job Done
The reason we can handle any type of auto service your car may need is because our technicians have been through extensive training and have many hours of experience working on Ford vehicles. They know how each system works, and also have the latest tools and equipment to handle any repair or maintenance job.
Along with that, they'll use genuine OEM Ford parts when adding new components to your car. Instead of using generic parts, these OEM parts are made of durable, high-quality materials and specifically designed to maximize the performance of your Ford!
Added Convenience at Our Ford Service Center
With the various hours we offer, we make it easy for you to find a time to have your car serviced. You can even schedule an appointment right online for whatever time works best for you. Bring your car by for a quick service before heading to the office in the morning or after you drop the kids off at school, or you can make an appointment on the weekend when you have some extra free time.
If you want to check off other things on the to-do list while we service your car, our shuttle service will be happy to bring you back home. Then once your car is ready and our technicians are done, we'll come back to pick you up so you can come get your vehicle. We also have Wi-Fi in our waiting area, so you can bring your laptop along with you to get some work done or just catch up on emails while we change fluids or replace parts in your Ford.
Schedule an Appointment at Our Exton Ford Service Center
Let our trained technicians get to work on keeping your Ford in excellent shape as you drive around Exton, Coatesville, and Downingtown, Pennsylvania! Schedule an appointment online or by giving us a call here at our Fred Beans Ford of Exton service center!

Fred Beans Service Customer Reviews
"My car needed inspected, oil change and new brakes and I knew I could not wait until after we got through the COVID-19 pandemic. I had originally scheduled my appointment with another Chevy dealer and called to ask what policies they had in place during this unfortunate time. Unfortunately they were unable to answer that question for me when I called, including a manager who I left a voice mail for asking for a call back that I never received. In looking at your website, you had it all spelled out as to what you were doing and I was very impressed with the precautions you were taking not only for me and my car, but for your staff. I felt confident that all would be fine if I had my car serviced by you during this difficult time. It was and I really appreciate the process you had in place, thank you!!"
By Service Customer on 03/30/2020

"Awesome customer service and work, especially in this time of an ongoing pandemic. Thank you for putting your customers front and center at this difficult time while at the same time ensuring the safety of your team."
By Service Customer on 04/01/2020
"

Ray was simply fantastic! Explained everything regarding my vehicle. Was especially diligent and sympathetic to our current affairs. I felt cared about and was truly taken care of! THANK YOU!

"
By Service Customer on 04/03/20
"Thank you during this trying times to give me somewhere to go for an oil change and be able to wait. As a single person it is hard for me to drop my car off and pick it up. Service was great as always! "
By Service Customer on 04/04/2020
"I am needed at work a few days each week. I needed my vehicle serviced but was concerned about how I would be safe from the corona virus. Everyone in the service department was well prepared to "social distance" and my vehicle was disinfected before and after the service. My sincere thanks to the staff who come to work each day to provide this essential service."

By Service Customer on 04/27/2020
Hours
Monday

8:30AM-8:00PM

Tuesday

8:30AM-8:00PM

Wednesday

8:30AM-8:00PM

Thursday

8:30AM-8:00PM

Friday

8:30AM-8:00PM

Saturday

9:00AM-5:00PM

Sunday

Closed