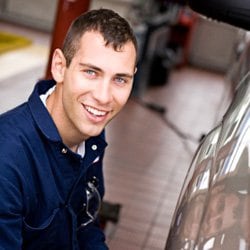 Welcome to Our Parts Center
When owing a vehicle, some people enjoy fixing their vehicle themselves, and some wish to add aftermarket accessories. That's why here at Fred Beans Ford of Exton, we provide a parts center for this very reason. At our parts center, customers can find various genuine OEM parts and accessories, from wiper blades and brake pads to roof rails and floor mats and everything in between. Our parts department is open six days a week, so stop by today and see what we have in stock.
Order Parts and Accessories
While our parts center offers a variety of parts for Downingtown locals to pick through, we don't always have the piece a customer needs in stock. When this happens, our team can order what you need and notify you when it arrives. However, if you'd rather not come back up to our parts center to pick up a piece, you can have what you need be delivered right to your door.
To have parts and accessories delivered right to you - Coatesville customers will need to fill out our online form below. We'll require your contact information, the make and model of your vehicle, and what part or accessories you're looking to purchase. In just a few business days, you should have what you need.
The Importance of OEM Parts
OEM parts are pieces specifically designed by the manufacturer to fit your ride. While they may be more expensive than non-OEM pieces, they are guaranteed to fit your vehicle and not wear down as fast. To learn more about OEM gear, speak to the team member at our parts center.
Contact Our Parts Department
If you're trying to find a specific part or accessory for your vehicle and don't want to spend all day visiting multiple stores, then contact our parts center, and our team will be happy to help however they can. Whether you're shopping online or in-person, you'll find exactly what you need when you shop with us, so visit our parts center today.